Jail Call
Call Forwarding Service
Local Canada or United States phone number (local to the jail)
Free forwarding to Canada & USA numbers
(excluding Alaska, NWT, Nunavut, Yukon)
No admin fees, no contracts, no network fees, no recovery fees, no setup fees, no cancellation fees.
Lots of great free feature!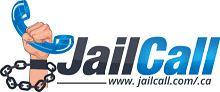 With Jail Call, there are no connection fees and no per minute rates. You simply pay a flat rate per month for unlimited talk*.

* Caller may be required to pay a local call charge.